Tomorrow begins a two week period of prayer for respect for Religious Liberty.  From June 21 to July 4, the US Bishops are asking all people of faith to make this a time of prayer, study and catechesis.  This is to be a time to both learn about the growing threats to religious liberty in our own country, as well as internationally, and to pray that this basic, fundamental freedom be protected.
Perhaps the best known threat to our religious liberty is the now famous HHS Mandate.  There are two fundamental issues at work here.  First, the issue that truly makes this an issue of religious liberty is that a branch of the federal government is taking the unprecedented step of defining religion.  In this mandate, which is now 'law,' the so-called religious exemption outlines four criteria that must be met if an organization is to be 'religious' and thus exempt from the mandate.
To meet this exemption, an organization must 1) exist primarily for the inculcation (teaching or passing on) of the tenents of their faith; 2) the organization must employ only members of its own faith; 3) the organization must serve only people of its faith; and 4) the organization must meet certain tax code exemptions. 
In other words, the government is now in a position of telling religious organizations who they can serve, and who they can employ.  Clearly, the First Amendment which protects Religious Liberty is  meant to keep the federal government from interfering in the internal life of the church.  We do not ask to see someone's baptismal certificate before we decide to serve them.  The ministry of the Church is based on the mandate of Jesus Christ, and no government can supersede that authority.
The second serious issue of the HHS Mandate is one of conscience.  The Mandate is requiring religious organizations to violate our moral teaching and practice by providing our employees with birth control, sterilization procedures, and abortion-inducing drugs. 
There are other examples from recent history that give serious concern regarding efforts to restrict our Religious Liberty as protected in the First Amendment.  So, we encourage all our parishes and parishioners to take time in these coming weeks to pray for religious freedom.  Take time to study the issues of concern. 
As a part of our diocesan celebration of the Fortnight of Freedom, I will celebrate Mass at the Cathedral at 5:30pm on June 28, the Vigil of the Solemnity of Sts. Peter and Paul.  I hope you will join us for this Mass if you are in the Cheyenne area. 
Our celebration will conclude on the 4th of July with the ringing of church bells at noon.  May God bless our efforts in these coming weeks, and may God bless America!
Prayer for the Protection of Religious Liberty
O God our Creator,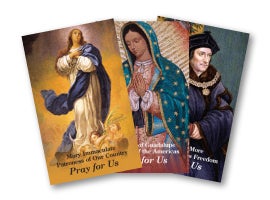 Through the power and working of your Holy Spirit,
you call us to live out our faith in the midst of the world,
bringing the light and the saving truth of the Gospel
to every corner of society.
We ask you to bless us
in our vigilance for the gift of religious liberty.
Give us the strength of mind and heart
to readily defend our freedoms when they are threatened;
give us courage in making our voices heard
on behalf of the rights of your Church
and the freedom of conscience of all people of faith.
Grant, we pray, O heavenly Father,
a clear and united voice to all your sons and daughters
gathered in your Church
in this decisive hour in the history of our nation,
so that, with every trial withstood
and every danger overcome—
for the sake of our children, our grandchildren,
and all who come after us—
this great land will always be "one nation, under God,
indivisible, with liberty and justice for all."
We ask this through Christ our Lord.
Amen.
+pde
0